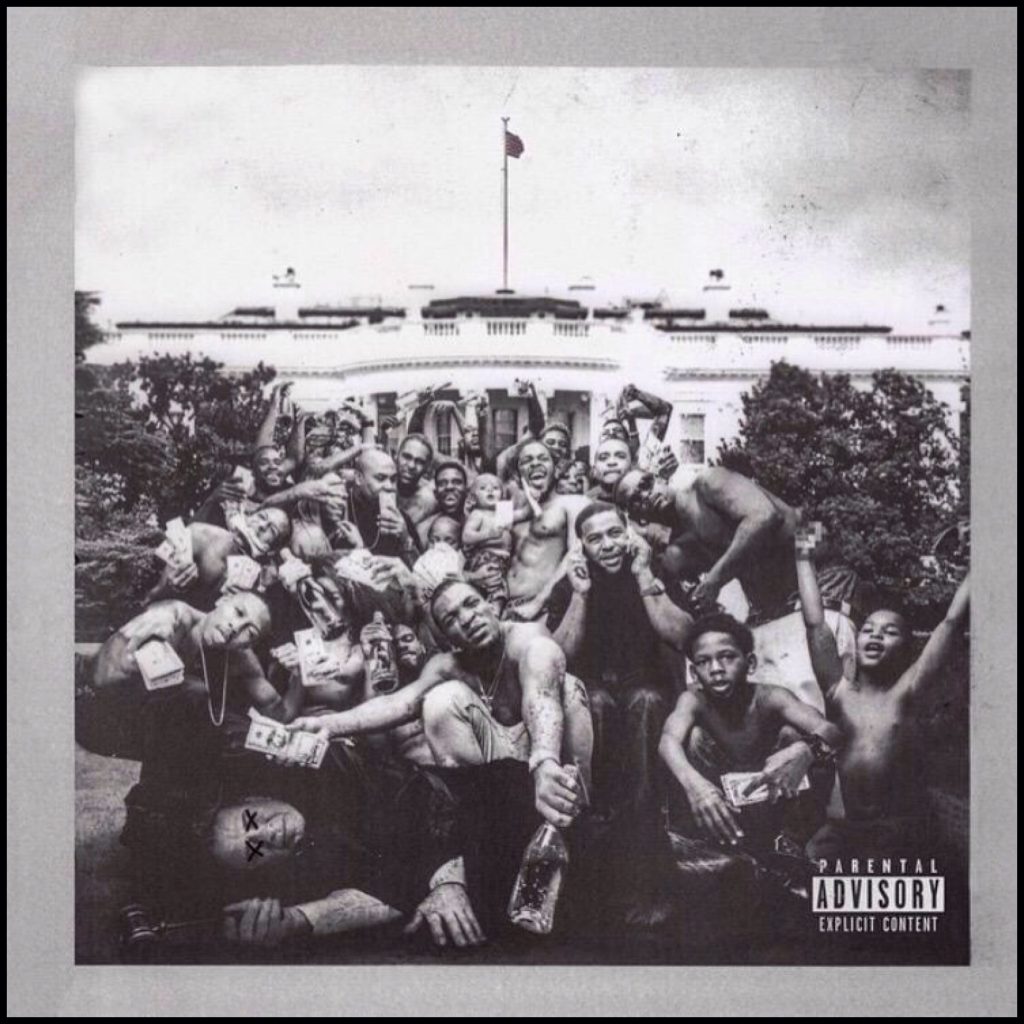 Although the enthusiasm for Kendrick Lamar's newest, utmost hyped longplayer "To Pimp a Butterfly" is beneficial for the development of a diversified, broader image of hip hop as a whole; it is also accompanied by overhasty judgements right after the release. Therefore, sometimes an album urges us to let it breathe before we judge on it. Kendrick Lamar's third album is conceptual throughout, multifaceted and too sophisticated for people to have gained a comprehensive picture from having listened to it only once or twice. This album is full of substance and hidden links, challenging one to identify significant details gradually to the whole body of work – not ending with this review.
Due to the album title's "To Pimp a Butterfly" heavy meaning, the first association one comes up with is its literal, unfiltered essence, as in the intention to enslave someone. It can be interpreted as if a free mind (=butterfly) is being caved in the harsh reality of its surrounding (=pimp). Whether it is being trapped by a prejudiced mindset someone puts forward towards a certain community or being locked in a deprived area which is overshadowed by social, legal and economic pressure. This frequent question of the title's implication was clarified by Kendrick Lamar in a Hot 97 interview like this: "There is several meanings actually. The first one I can think of top is taking something or my celebrity and doing good with it. Or worse." Kendrick Lamar's album has obviously aspects to it, which are connected to the listener's personal world view. There is no black or white. Every interpretation is legit, as it is a reflection of the inner feelings one 'projects' into the music.
Even though the refreshing, self-affirming "I", was released four months prior to the album it seems to be the album opener, however the official one is the Flying Lotus alongside Thundercat produced song "Wesley's Theory". It is a disarranged, funky, up-tempo track that takes you out of your comfort zone sonically and thematically. Starting off with a sample of Boris Gardiner's "Every Nigger is a Star", Kendrick alludes at the whole album's metaphor of how black, talented artists being 'pimped' by the entertainment industry to serve as their cash cows. Thereby he criticizes to be expected to fulfill the stereotype of a black newly rich celebrity who defines his worth by expensive things he possess, misuses his influence and lose sight of his noble goals. Enriched by a George Clinton bridge and Dr. Dre statement "Wesley's Theory" can textually be analyzed phrase by phrase. Kendrick works with word plays, metaphors and allegories throughout to paint the cynical picture of a sick American society in 2015. Even the title is a linkage to the tax evasion issue Wesley Snipes experienced, as an example of how black people are being held criminalized by 'Uncle Sam' to not come to the forefront. "Wesley's Theory" is not even a song that is full of subliminal messages, but also the song that inspired the concept of the album cover.
The third outtake of the album "King Kunta" is another milestone on the album that impresses by a funky and uplifting instrumentation paying homage to James Brown, but fueled by heavy and rich lyrics stimulating a thoughtful atmosphere. "King Kunta" is a homage to the slave Kunta Kinte who was known as a rebel and has got cut off his right foot to not run off the plantation. With the help of the rhetorical figure, Kendrick revolts as a part of the black resistance against oppressive institutions and emphasizes that he believes to possess rap's throne by self-titling himself as a king. "King Kunta" therefore constitutes a strong signal to the fellow rappers and acts as an echo to the strained political situation in US. Its quintessence is described best by Kendrick himself as "I am a King, no matter what you call me".
Three of the most personal songs are "Institutionalized", "Complexion" and "The Blacker The Berry", verbalizing Kendrick's frustration of him, representative for black America, being marginalized, suppressed and segregated in a society where racism is experienced firsthand.
"Institutionalized" starts off with a smooth, soulful, stripped down piano-heavy instrumentation to emerge into a deep kick-driven beat after a radical change of rhythm. Besides the beat change also Kendrick varies his flow and intonation immensely throughout the song. In the beginning his voice appears as if he was hounded, with a pitched, choppy style shifting to a soft-whispery verse and alternating in between. And as if the listener is not confused enough,obscure screams and flute playings in between throw the listener out off track repeatedly. Convoyed by the chant of neo-soul singer Bilal and a bridge by Snoop Dogg, Kendrick discusses how he is indoctrinated by his under-privileged area of  upbringing, namely Compton, Los Angeles, underlined by his phrase "I'm trapped inside the ghetto and I ain't proud to admit it /Institutionalized, I keep runnin' back for a visit".
"Complexion" intends to express unity and brotherly love – irrelevant of skin color, ethnicity or cultural background. For Kendrick slavery is still prevalent subtlety in people's minds. It is just being transferred into 2015 problems of unequal opportunities, class mentality and isolation. The aim of the song is to empower his peers by minimizing the relevance of skin color and underlining the importance of believe in what is inside of you, articulated by the metaphor "Dark as the midnight hour, I'm bright as the mornin' sun". The appearance of the jazz pianist Robert Glasper refines the song with his trademark sound of a piano-driven chill-out tune that has a dreamy vibe to it. As a featuring artist Rapsody drops a verse reviewing the issue of racism out of her personal view. In contrast to the soft and mellow "Complexion, "The Blacker The Berry" is the most aggressive, emotionally charged song and directly targeted at everyone showing narrow-mindedness against black people. Kendrick puts across very clearly what he still seems to experience by saying "You hate me, don't you? / You hate my people, your plan is to terminate my culture". It's the voice of a black man, who is seeking for acceptance, inner peace and up to fight for his rights. The hook, appearing self-loving in the first place, is being reversed in its last line "The blacker the berry, the bigger I shoot" which refers to the high rates of black-on-black crime in the United States. "The Blacker The Berry" is full of self-doubts against himself and his own culture, acting as a counterpart to "I" which glorifies it in contrast.
Ordinarily hypes lead to an averse and anti-cyclical reaction by music journalists. With Kendrick it is very different. He is apparently an artist every lover of (rap) music can agree on. Maybe because this album is unconventional, well-crafted, versatile and scandalizing all in one, or because Kendrick is incredibly reflected, emotional, socio-critical and brutally honest on the album scrutinizing his whole existence by thematizing sensible but current topics such as racism, materialism and classism. Something very special about Kendrick's album is that it is musically demanding and every song deserves its dignified listen to appreciate every little musical element and lyrical twist that Kendrick has put together with so much attention to detail. "To Pimp A Butterfly" is an intricate concept album telling us the story of Kendrick Lamar, his current state of mind and what struggles he goes through as a role model, man of color and culturally empathic observer. With this album Kendrick Lamar is the spokesperson for a whole generation of African-Americans. A generation of unequally treated wishing to be free as a butterfly.