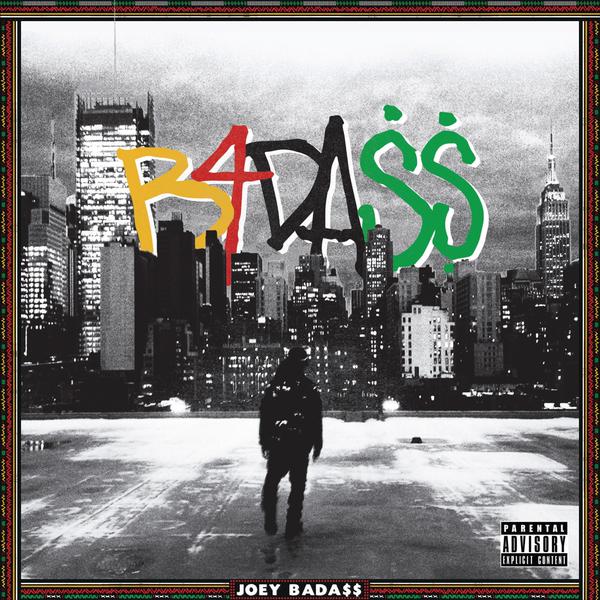 Smart-minded, talented and reminiscent. These three attributes encapsulate the distinguished character of the ambitious New York rap artist Joey Bada$$. Although he is born in the midst of the 90's, the sound of the golden era of hip hop has left its marks on him long before he was even consciously able to apprehend it. It is truly awe-inspiring to envision him being a newborn while Biggie Smalls was living it up big time, when listening to the nineties inspired boom-bap rap of this still underage MC. Hearably, Joey Bada$$ inhaled the flavour of the streets, caught an eye for the soulfulness in music and absorbed the versatility in rhymes. And these are just a few reasons, why he is declared to be a rap wunderkind with only three released mixtapes and now a debut album.
From the first scratch to the phrase "Money ain't a thing if I got it", the song "Paper Trail$" demands the full attention of the listener. It thematizes the subliminal critic of the album title "B4.Da.$$" pronounced "before the money" and therefore serves as a latent album opener. Joey spits over the beat, as if he had to get these lyrics, scrutinizing our capitalized system, off his chest. Produced by the legendary DJ Premiere, the beat provokes a continuous head nod and tunefully represents the true essence of hip hop. A reverb choir, looped string orchestra, punctualised piano chords and sample of Wu-Tang Clan's "C.R.E.A.M." refine the sound with a melancholic, but likewise impelling and raw New York-typical sonic appeal.
On "Hazeus View" Joey's Jamaican roots are revealed. It is a reggae-inspired, vibey chillout track that emphasizes Joey's incredible talent to flow over the beat and thereby provide it with a distinctive tonal sound. On top, Joey himself contributes a singing part for its mellow bridge, which interplays genuinely with the piano-loaded melody and the old school bass drum pattern. While "Hazeus View" allows the listener to ease and wander the mind, "Like Me" feat. BJ The Chicago Kid is a lyrically touching tune that goes right under the skin. Joey articulates the racial, sociopolitical issues a man of colour undergoes and emotionally frees himself from the frustration of being confronted with violence, shifted priorities and brutality against a criminalized black youth. Phonetically it is a smooth soul song rounded off by an organic instrumentalization produced by legendary J-Dilla and The Roots.
Another milestone on this album is "On & On". A warm nostalgic rap track prefaced by a crackling vinyl sound which induces an outright intimate atmosphere. In every respect, Joey opens up about his innermost thoughts by being critical with his life and transparent with his inner feelings. According to this song, he has the aspiration to be on top of the world and outpace the circumstances he lives in. Underpinned by the bridge's lyrics "maybe I'mma fly away", sang by the dreamy voice of the British artist Maverick Sabre, the composition of the whole track expresses a longing for freedom and inner serenity.
Joey Bada$$'s debut album was likewise anticipated by the old school and new school hip hop lovers, by the mainstream and feuilleton press as well as US president's daughter Malia, who was caught wearing a shirt of his movement Pro Era earlier this year. The recognition and awareness for Joey's talent and music makes it hard to believe that he is still new to this game. And his debut album "B4.Da.$$" shall not reverse this impression. Joey Bada$$ demonstrates with his first longplayer that he is a genius in flow, in intonation and in message. His thoughts and ability to clearly express them combined with his unique way of delivery elevate him as a musician to be called a 'complete artist'. Another component leading to this well-deserved, but early status is him honoring a legacy of more than 40 years of hip hop, by incorporating the old school sound into his music. Something that his generation of rappers has barely done to date. Joey Bada$$ is therefore not only hip hop's rarest, but also its youngest breed.