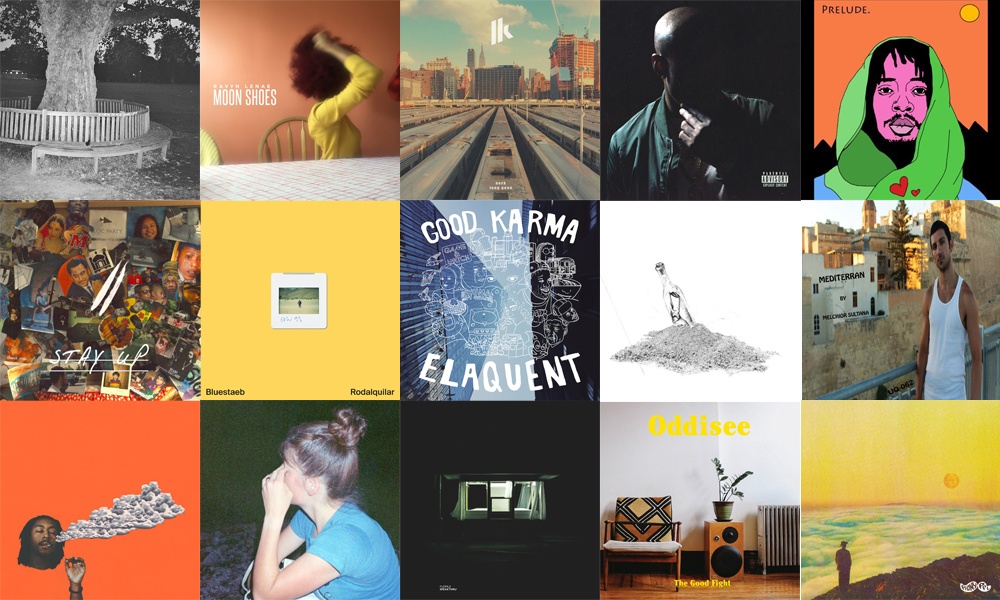 This year brought us lots of good music and I'm pretty sure you've already seen some "Best of 2015" blog posts. On almost every list you'll find names like Kendrick Lamar, Joey Bada$$, Drake, Hiatus Kaiyote, Erykah Badu, The Internet, SiR, Tuxedo or Kamasi Washington on it. Without a doubt every single one of them delivered a dope album in 2015 but we decided to dig a little bit deeper. So I put together a list of slept-on releases and freebies that should be mentioned when it comes to a "Best Of" list.
There's no particular order, just good music!
Archy Marshall – A New Place 2 Drown
Only a few weeks ago Archy Marshall aka King Krule and his brother Jack released "A New Place 2 Drown". The project comprises a book, a short film and an original soundtrack. While Jack was more into the visual part, Archy crafted 12 beautiful tracks with a wavey future vibe that makes you feel like chillin' underwater. If you also miss these kinds of albums that you can and want to listen to from front to back, this is it!
Check out the short film here, stream the album below and purchase it on anewplace2drown.com.
FloFilz – Speakthru
We have recently shared the Barney Artist & Anthony Drawn featured "The Verb (Herb)" on our Youtube Channel. If you haven't checked out the entire new album from FloFilz, now is the time. 12 laid back jazzy tunes including other guests like IvanAve, Blu, Co$$, JuJu Rogers and Chiara Noriko are waiting for you. Listen to the entire album below and head over to Jakarta Records to cop it.
Bluestaeb – Rodalquilar
And another one from Jakarta Records. Last month Berlin beat smith Bluestaeb dropped his homage to Rodalquilar, a small Spanish village where he spent much time during his childhood. The album features 13 jazz and funk inspired hip hop beats that will send you on a trip to Southern Spain. To visualize the journey the vinyl edition comes with a nice photo booklet. Listen to "Rodalquilar" below and grab a copy here.
Melchior Sultana – Mediterran
I don't know that much good house music so I'm glad a good friend of mine introduced me to Malta-based producer Melchior Sultana. You should know his lovely edit of Tarika Blue's "Dreamflower" from our Youtube channel. While this track was pure Neo Soul his "Mediterran Album" contains strictly House Music but still with a soulful, jazzy and very laid back vibe. Check out a preview of the LP below and order the vinyl via undergroundquality.com.
Elaquent – Good Karma
A friend of Elaquent sent me this album a few weeks before the release and I couldn't get enough of it. Now, half a year later I still got this one on heavy rotation. Especially "Mari Jayne" and "Seatbelts" made me an addict and of course "Rio" which is my absolute favorite on this album. Every single time I hear this 1-minute-long piece of feel good music I hit the repeat button at least 2 times. Make sure you check the stream below and purchase it via Bandcamp.
Freddie Gibbs – Shadow Of A Doubt
Let's come to one of my favorite Rap Albums of the year. Freddie Gibbs has recently released his third studio album "Shadow Of A Doubt" and I guess that's why it's not listed on most of the Best of 2015 lists. Besides the Gucci Mane & E-40 assisted hit-single "10 Times" there are 14 more tracks on the album, including collaborations with Black Thought and Tory Lanez. Productions by the likes of Boi-1da, Mike Dean, J Reid & Kaytranada offer a vibrant sound for Freddie's tough urban storytelling. Definitely a must-have for every real rap head. Check the stream below and purchase it via iTunes.
Oddisee – The Good Fight
Another dope Rap album I really enjoyed is Oddisee's "The Good Fight". Once again the demonstrates his skills in front of the microphone and behind the boards. As he describes it in his own words:
"The Good Fight" is about living fully as a musician without succumbing to the traps of hedonism, avarice, and materialism. It's music that yields an intangible feeling: the sacral sound of an organ whine, brass horns, or a cymbal crash. It's a meditation on our capacity to love and the bonds binding us together. It's our ambition and greed warring with our sense of propriety – a list of paradoxes we all face when living and striving.
Stream the 12-track LP below and purchase it via Bandcamp.
PHONY PPL – Yesterday's Tomorrow
PHONY PPL is a Brooklyn-based collective of instrumentalists and vocalists who provide an eclectic mix of futuristic soul and celestial jazzy elegance that at one point can have you vibing out and at another, up dancing. Their latest release "Yesterday's Tomorrow" is packed with good vibes and there's not a single song you want to skip because they are all great. Watch the video for "End of the niGht." or listen to "Why iii Love The Moon." below and purchase the full album via iTunes.
Iman Omari – High Loops & Higher Loops
Iman Omari is always a guarantor for good vibes in form of dope beats. On his latest release "High Loops & Higher Loops" he once again proves his talent and delivers a damn fine beat-tape. Listen to 13 of 22 tracks below and purchase the entire album via Bandcamp.
Donnie Trumpet & The Social Experiment – Surf
Chance The Rapper's touring band The Social Experiment has released their debut album "Surf" this year. The album highlights trumpeter, Nico Segal aka Donnie Trumpet, and was created by himself, Chance The Rapper, Lido, and Pete Cottondale. They also recruited a massive list of guests by the likes of Erykah Badu, Raury, J. Cole, Busta Rhymes and Janelle Monae. This album is not just one of our favorite releases this year it's also available for free! Go get it via iTunes or download the single tracks via Soundcloud. Listen to the entire album below.
Toro Y Moi – Samantha
Besides releasing his "What For?" full-lenght album in April, Toro Y Moi also dropped a pretty dope mixtape called Samantha. The 20 track collection features songs that were recorded between January 2012 and August 2015 including collaborations with Rome Fortune, Kool A.D. and Nosaj Thing. Stream "Room For 1zone" and "Pitch Black" below and download the entire mixtape via Dropbox.
Neck – Long Gone EP
Neck is one of my favorite producers and I really can't understand why the world is sleeping on him. With only 3300 followers on Soundcloud I hope this guy will make it big next year. He combines elements of Jazz, Soul & Hip Hop into high-class Future Beat Music. Every single song of him is a masterpiece and so is his "Long Gone" EP. It features 5 laidback tracks with a lovely chill vibe and vocal samples by the likes of Sade & Biggie Smalls. Check the stream below and download the single tracks via Soundcloud.
abhi//dijon – Stay Up
When it comes to R&B, producer Abhi Raju and singer-producer Dijon Duenas aka abhi//dijon are guys you should watch out for. They really know how to make modern R&B music with that good old 90's flavor. On "Stay Up" they deliver 11 tracks that prove their immense talent. From Slow Jam to Uptempo Groove these guys got the Soul and they want to share it with you. Stream the entire EP below and grab the Free Download.
Patrick Paige II – Prelude
Only 2 weeks ago we shared this one with you but this Free EP from Patrick Paige II is so good that we have to share it again. On 7 instrumental tracks the member of Odd Future's The Internet delivers a fine mixture of Experimental Soul Funk Jazz sounds. Check the stream below and download the single tracks via Soundcloud.
Terry Urban – FKA Bigge (FKA Twiggs meets Biggie)
Earlier this year Terry Urban mashed up Biggie vocals with FKA Twiggs tracks and it sounds really dope. Since this 8-track EP is still available for free we thought it's good bring it back to your attention. Check the stream below and grab the Freebie.
Ravyn Lenae – Moon Shoes
Chicago based songstress Ravyn Lenae shows her skillz on her debut EP "Moon Shoes". She's only 16 years old but already sounds like a pro. With Soulection's latest protégé Monte Booker on the beats she created a beautiful 8-track-strong EP with lovely Future R&B sounds. Take some time and give Moon Shoes a proper listen below and download it here, you won't be disappointed.
Towkio – .WAV Theory
Another Freebie you should add to your collection is Towkio's ".WAV Theory". The project includes production from Kaytranada, Lido, and Towkio himself, as well as features from Vic Mensa, Chance The Rapper, Donnie Trumpet, and more. Check the stream below and download the single tracks via Soundcloud.
Actually there are so many more good releases I should write about but this would take too many time. I just listed some more albums below and if you finished listening to the ones above check em out too!
The Xtraordinair$ – X-Life
Ian Ewing – Pool Party
CYGN – True Lies
Sango – Da Rocinha 3
Esta – Feathers EP
Allie – Moonlust EP
MozzDeep – No Qualms
Sevdaliza – Children Of Silk
&Friends – Awareness
Little Simz – A Curious Tale Of Trials + Persons
Mirror Signal – Herculean EP
Onra – Fundamentals
Flako – Natureboy
Soulection – Love Is King Compilation
NxWorries (Knxwledge x Anderson .Paak) – Link Up & Suede
Blended Babies – The Anderson .Paak EP
Foreign Exchange – Tales From the Land of Milk and Honey
Illa J – Illa J
DaM FunK – Invite The Light